Published by the United Nations Conference on Trade and Development - UNCTAD

---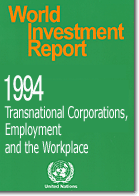 WORLD INVESTMENT REPORT 1994
Transnational corporations, employment and the workplace
The World Investment Report 1994 analyses the impact of an integrated international production system on the quantity and quality of employment, human resource development and, more generally, to the organization of work.
The report includes a statistical annex with FDI statistics and other related indicators.
Policy makers and trade union leaders must find innovative ways to respond to the ongoing changes in the international economy. Not only must they address the many new issues raised by integration at the level of production; but, in a more open and integrated world economy, policy makers must coordinate more carefully the traditional instruments for domestic economic management with policies relating to international economic relations, including, in particular, foreign direct investment (FDI) and other forms of TNC activity.

---

Table of contents

Executive Summary

Chapter I
GLOBAL TRENDS
A. Transnational corporations
B. Foreign direct investment
C. Major forces behind recent trends
D. The sustainability of flows into developing countries

Chapter II
REGIONAL TRENDS
A. Developed countries
B. Developing countries
C. Central and Eastern Europe

Chapter III
GLOBALIZATION, INTEGRATED INTERNATIONAL PRODUCTION AND THE WORLD ECONOMY
A. Globalization: a long time perspective
B. Rebuilding international economic integration
C. Shallow integration
D. International production
E. Integrated international production
F. The uneven landscape of integrated production
G. Globalization and integrated international production

Chapter IV
TRANSNATIONAL CORPORATIONS AND EMPLOYMENT
A. The employment effects of international production: a conceptual overview
B. Recent developments in employment in transnational corporations
C. International production and the quality of employment
D. The growing interdependence of labour markets

Chapter V
TRANSNATIONAL CORPORATIONS AND HUMAN RESOURCE DEVELOPMENT
A. The role of transnational corporations and human resource development
B. Maximizing and diffusing the contributions of transnational corporations to human resource development
C. Human resource development through linkages with transnational corporations
D. Human resource development as a factor inducing foreign direct investment

Chapter VI
TRANSNATIONAL CORPORATIONS AND INDUSTRIAL RELATIONS
A. Union organization and action
B. Access to decision makers
C. Information disclosure and consultations
D. The introduction of innovatory practices

Chapter VII
LIBERALIZING FOREIGN DIRECT INVESTMENT POLICIES
A. Implications of the Uruguay round
B. The process of liberalizing foreign-direct-investment policies
C. Beyond liberalization

Chapter VIII
CORPORATE SOCIAL RESPONSIBILITY AND TRANSNATIONAL CORPORATIONS
A. The concept of social responsibility of firms
B. Corporate social responsibility applied to transnational corporations
C. The social responsibility of transnational corporations in human resource management

Chapter IX
TRADE UNION APPROACHES TO INTERNATIONAL PRODUCTION
A. Trade union strategies
B. International normative frameworks
C. Industrial relations in Western Europe

Chapter X
GOVERNMENT POLICIES, HUMAN RESOURCE DEVELOPMENT AND TRANSNATIONAL CORPORATIONS
A. Achieving a competitive edge for foreign direct investment through human resource development policies
B. Channeling foreign direct investment into areas with maximum potential for human resource development
C. Maximizing the contribution of transnational corporations to human resource development

References

Annexes
Table 1. Foreign-direct-investment inflows, by host region and economy, 1982-1992
Table 2. Foreign-direct-investment outflows, by home region and economy, 1982-1992
Table 3. Foreign-direct-investment inward stock, by host region and economy, 1980-1985-1990-1992
Table 4. Foreign-direct-investment outward stock, by home region and economy,1980-1985-1990-1992
Table 5. The ratio of foreign-direct-investment inflows to gross fixed capital formation and the ratio of gross fixed capital formation to gross domestic product, 1981-1992
Table 6. New bilateral treaties for the promotion and protection of foreign direct investment signed or entered into force as of May 1994
Table I.2. The top 100 transnational corporations ranked by foreign assets, 1992
Table I.14. Profitability of majority-owned nonbank foreign affiliates of nonbank United States parent firms, 1977-1991

Selected UNCTAD publications on Transnational Corporations and Foreign Direct Investment
Questionnaire