---
The New Economic Geography: Effects and Policy Implications.
A Symposium Sponsored by The Federal Reserve Bank of Kansas City.
August 24-26, 2006.
Jackson Hole, Wyoming, United States of America. Symposium home
---
Foreword
THOMAS M. HOENIG - President, Federal Reserve Bank of Kansas City
---
The Contributors
---
Symposium Introduction
STACEY L. SCHREFT - Vice President and Economist, Federal Reserve Bank of Kansas City

---
Opening Remarks
BEN S. BERNANKE - Chairman, Board of Governors of the Federal Reserve System
---
Shifts in Economic Geography and Their Causes
ANTHONY J. VENABLES - Professor, London School of Economics
Discussant: DOUGLAS A. IRWIN
Professor, Dartmouth College
General Discussion
---
CONSEQUENCES FOR PRODUCTION AND PRICES, EMPLOYMENT AND WAGES

The Rise of Offshoring: It's Not Wine for Cloth Anymore
GENE M. GROSSMAN - Professor, Princeton University
ESTEBAN ROSSI-HANSBERG - Professor, Princeton University
Discussant: JOHN B. TAYLOR - Professor, Stanford University
General Discussion
---
CONSEQUENCES FOR FINANCIAL MARKETS AND GLOBAL SAVING AND INVESTMENT

Patterns of International Capital Flows and Their Implications for Economic Development
RAGHURAM G. RAJAN - Economic Counsellor and Director of Research, International Monetary Fund
Discussant: SUSAN M. COLLINS
Professor, Georgetown University and Senior Fellow, Brookings Institution
General Discussion
---
Luncheon Address
The New Global Economic Geography
STANLEY FISCHER - Governor, Bank of Israel
---
STRATEGIES FOR GROWTH

Panelists:
India's economic growth and global integration : experiences since reforms and future challenges
T. N. SRINIVASAN - Professor, Yale University
Strategies for growth: Central and Eastern Europe
JAN SVEJNAR - Professor, University of Michigan
Africa: Geography and Growth
PAUL COLLIER - Professor, Oxford University
General Discussion
---
IMPLICATIONS FOR MONETARY POLICY

Impact of Globalization on Monetary Policy
KENNETH S. ROGOFF - Professor, Harvard University
Discussant: CHARLES BEAN - Executive Director and Chief Economist, Bank of England
General Discussion
---
OVERVIEW PANEL

Panelists:
MARTIN FELDSTEIN - President and Chief Executive Officer, National Bureau of Economic Research
ARMINIO FRAGA - Chief Executive Officer, Gavea Investimentos
RAKESH MOHAN - Deputy Governor, Reserve Bank of India
General Discussion
---
The Participants
---
Each year since 1978, the Federal Reserve Bank of Kansas City has sponsored a symposium on an important economic issue facing the U.S. and world economies. Symposium participants include prominent central bankers, finance ministers, academics, and financial market participants from around the world. The participants convene to discuss the economic issues, implications, and policy options pertaining to the symposium topic. The symposium proceedings include papers, commentary, and discussion.
2010 "Macroeconomic Challenges: The Decade Ahead"
2009 "Financial Stability and Macroeconomic Policy"
2008 "Maintaining Stability in a Changing Financial System"
2007 "Housing, Housing Finance, and Monetary Policy"
2006 "The New Economic Geography: Effects and Policy Implications"
2005, "The Greenspan Era: Lessons for the Future"
2004, "Global Demographic Change: Economic Impacts and Policy Challenges"
2003, "Monetary Policy and Uncertainty: Adapting to a Changing Economy"
2002, "Rethinking Stabilization Policy"
2001, "Economic Policy for the Information Economy"
2000, "Global Economic Integration: Opportunities and Challenges"
1999, "New Challenges for Monetary Policy"
1998, "Income Inequality Issues and Policy Options"
1997, "Maintaining Financial Stability in a Global Economy"
1996, "Achieving Price Stability"
1995, "Budget Deficits and Debt: Issues and Options"
1994, "Reducing Unemployment: Current Issues and Policy Options"
1993, "Changing Capital Markets: Implications for Monetary Policy"
1992, "Policies for Long-Run Economic Growth"
1991, "Policy Implications of Trade and Currency Zones"
1990, "Central Banking Issues in Emerging Market-Oriented Economies"
1989, "Monetary Policy Issues in the 1990's"
1988, "Financial Market Volatility"
1987, "Restructuring The Financial System"
1986, "Debt, Financial Stability, and Public Policy"
1985, "Competing in the World Marketplace: The Challenge for American Agriculture"
1985, "The U.S. Dollar - Recent Developments, Outlook, and Policy Options"
1984, "Price Stability and Public Policy"
1983, "Industrial Change and Public Policy"
1982, "Monetary Policy Issues in the 1980's"
1981, "Modeling Agriculture for Policy Analysis in the 1980's"
1980, "Future Sources of Loanable Funds for Agricultural Banks"
1979, "Western Water Resources: Coming Problems and the Policy Alternatives"
1978, "World Agricultural Trade: The Potential for Growth"
The Group of Twenty
(G-20)
"The Group of Twenty (G-20) Finance Ministers and Central Bank Governors was established in 1999 to bring together systemically important industrialized and developing economies to discuss key issues in the global economy. The inaugural meeting of the G-20 took place in Berlin, on December 1516, 1999, hosted by German and Canadian finance ministers.
The G-20 is an informal forum that promotes open and constructive discussion between industrial and emerging-market countries on key issues related to global economic stability. By contributing to the strengthening of the international financial architecture and providing opportunities for dialogue on national policies, international co-operation, and international financial institutions, the G-20 helps to support growth and development across the globe."

---
---
Education for Sustainability
Postgraduate courses on
Environment and
Development Education at
London South Bank University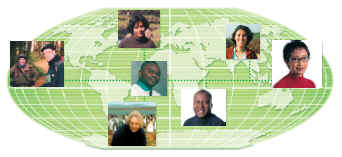 - Part time distance learning
- Full time at the University
- Come visit us at www.lsbu.ac.uk/efs
---
- Lecture notes
- Notes and papers

---
- Global Value Chains
- Integrated International
---Production
- International Division of
---Production
- Transnational Corporations
- The Triad ( U.S.A, Japan, E.U.)

---
- Dependency Theory
- Planning for Development
- The Developmental State
- The Neo-liberal State
- Development Economics
- The future of development
--economics
- Foreign Direct Investment
- Factor Payments to Abroad
- The New Economy in
--development
- International Trade

---
---
Back to Global Economic Prospects for Develeping Countries
---
--World Investment Reports
---(the complete series)
--World Investment Reports
---(selected statistics)
-- Planning for Development
---
UNCTAD areas of work:
Globalization and Development
Development of Africa
Least Developed Countries
Landlocked Developing Countries
Small Island Developing States
International Trade and
Commodities
Services Infrastructure
Investment, Technology and
Enterprise Development

---
The following databases on-line are available:
Commodity Price Statistics
Foreign Direct Investment
Handbook of Statistics
ICT Statistics
Millennium Indicators
TRAINS

---
Digital Library:
-- News
-- Main publications
-- UNCTAD Series
-- Basic documents
-- Issues in Brief
-- Newsletters
-- Statistical databases
-- Globalization and
----- Development Strategies
-- Economic Development in
----- Africa
-- International trade
-- Dispute Settlement - Course
----- Modules
-- Investment, Technology and
-----Enterprise Development
-- Services Infrastructure for
--- Development and Trade
----- Efficiency
-- Monographs on Port
----- Management
-- Technical Cooperation
-- Discussion papers
-- G-24 Discussion papers
-- Prebisch Lectures
-- Transnational Corporations
----- Journal
-- Publications Survey 2006-
-----2007

---
---
Search:
A B C D E F G H I J K L M N O P Q R S T U V W X Y Z
World indicators on the environment

---
World Energy Statistics - Time Series

---
Economic inequality

---
Other related themes:
- Aid
- Bureaucracy
- Debt
- Decentralization
- Dependency theory
- Development
- Development Economics
- Economic Policies
- Employment/Unemployment
- Foreign Direct Investment
- Gender
- Human Rights
- Human Development
- Hunger
- Inequality/social exclusion
- Informal sector
- Labour Market
- Microfinance
- Migration
- Poverty
- Privatization
- PRSP
- State/Civil Society/
---Development
- Sustainable Development
- Transnational Corporations
- Urbanization

- Complete list of development themes